Pacific Truck is a great place to work because of our strong culture that is the result of each member of our team comes to the office every day with a smile, ready to build, sell, and distribute high quality heavy-duty truck parts. For the second summer in a row now though, our Pacific Truck team has put on our game faces for Edmonton Corporate Challenge.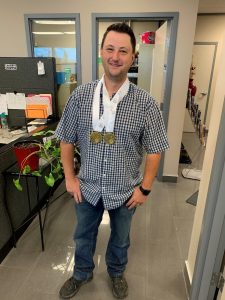 After our inaugural participation in 2018, our team was ready to show the other corporate competitors that we're going to be a force to be reckoned with now and into the future. In 2018, everyone had a great time and fostered some great friendships between departments. However, our last place finishes left something to be desired (although, Pacific Truck was voted the team that best exemplified sportsmanship last year).
This year, we had a goal of continuing to display good sportsmanship, while at the same time, starting to sneak up the overall leaderboard. With 2 Gold Medals, a Bronze Medal   and several other Top 10 finishes, we at Pacific Truck, achieved our goal.
This year's Corporate Challenge began with Bowling. Our roster could have easily fielded two teams, but since each company is only allowed to register one team per event, we had a lot of subs and a healthy cheering section.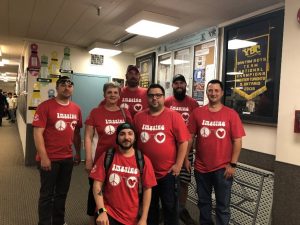 As the evening progressed, there were tons of gutter balls, and even a few strikes. But most importantly, there were more than enough smiles and laughs to spare. Right before the end of the night, in the last frame of the second round, our bowling ringer, Steven Dean rolled a "turkey" (3 strikes in a row). Perhaps a good sign of things to come next year for our bowlers?
Rainouts prohibited us from several events along the way as Edmonton seems to continue to have one of the dreariest summers ever. So, the four members of our trivia roster were quite pleased that this event was held indoors at Beercade on Whyte Ave. One of the few events that allowed for the consumption of beer and chicken wings while participating, Trivia has been a favourite amongst the different companies across Edmonton. Plus, the Beercade manager sat with our team and took really good care of us all night. Unfortunately for Team Pacific Truck, our Canadian population growth rate by specific year wasn't quite as well-honed as some of the other teams which resulted in us losing a ten-point bonus question and dropping to the middle of the pack in the final standings. Do you know what the population of Canada was in 1978?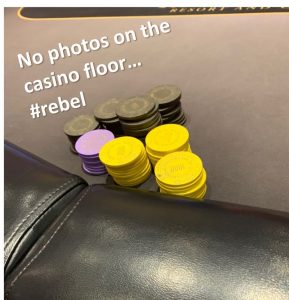 When poker night rolled around, we really started to pick up steam. While other teams were throwing back drinks, and finding it tough to keep their poker-faces, our team of three racked up the third highest chip count of the 60 competing companies. The Bronze Medals were the first medals Pacific Truck won in our history of two corporate challenges, but they would not be our last…
If you ever needed a subtle reminder that your peak physical condition is probably in the rear-view mirror, head over to the City Fit Centre in Old Strathcona and try to complete one of its obstacle courses. This was the first year for Team Pacific Truck for this event so now we know what to expect next time (and that a pretty good amount of training is required in the weeks leading up to it). Our roster of three were said to have cheered the loudest for each other though which is really what it's all about: excellent teamwork.
Billiards really proved to be our strongest suit this year with a completely dominating performance end to end. Our guys took home the Gold Medal for overall performance and the Gold Medal for best shot throughout the night. Captain, Dale Taylor, did not get to hold onto his medals for very long though as his two daughters each took one for themselves. At least we have photo evidence that Dale won big this year.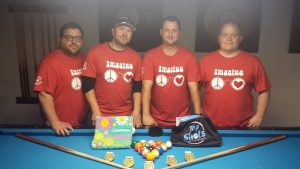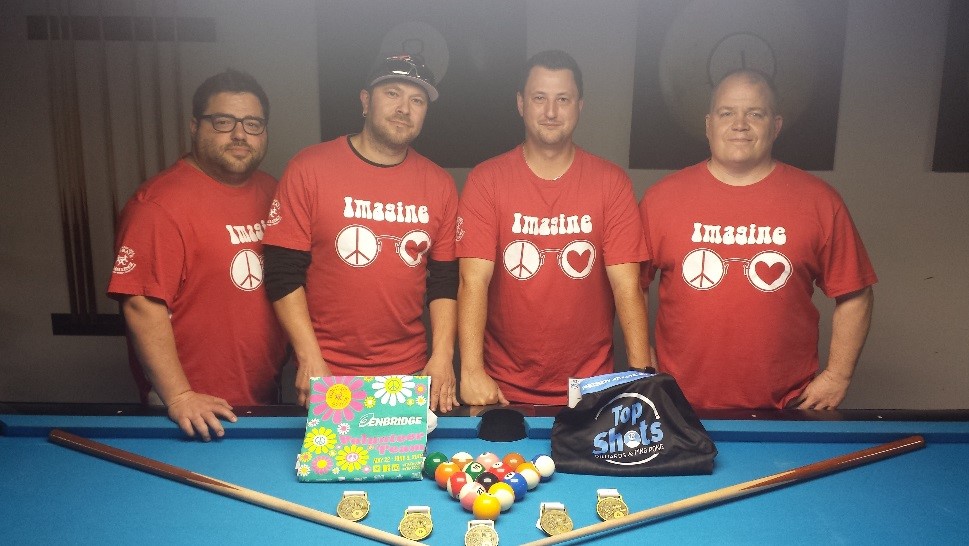 Never has the low-intensity game of cribbage been more hotly contested that on the night of June 7th, 2019. Two hundred players crammed into a hall built for one hundred and played over a thousand games of cribbage in just under 90 minutes. Everything was meticulously timed in the fashion of an Olympic 100m dash. The photo-finish had our guys fall outside the top 10 teams while only being twenty-one total points down from 1st place.
Volunteering is always an important part of the Edmonton Corporate Challenge because it requires so much effort on the part of so many people to make this complex series of events successful each summer. We would like to thank each of our volunteers this year: Kurtis Marceniuk, Jeff Borgford, Ian Reed, and Keston Gray.
Now that the 2019 edition of the Edmonton Corporate Challenge is behind us, we are already looking forward to improving on our great performance during next year's event.