2018 was the inaugural year for Pacific Truck's participation in the City of Edmonton's Corporate Challenge. With 57 employees at our home office, we had 18 enthusiastic participants across 7 events.  Next year, we want to double that and send a team of 36 participants from Pacific truck to Corporate Challenge 2019 so we can assemble rosters for 14 different events!
Volleyball
The first event on our schedule was volleyball where we drew some tough opponents, including a team that featured a former champion volleyballer who stood 6ft8". There was no shortage of smiles and laughs throughout the entire Sunday afternoon. We might need just a little bit of practice before next year though.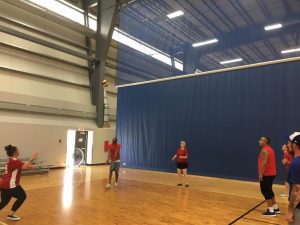 Bowling
The second event Team Pacific Truck tried our hands at was bowling. At one point, we got three strikes in a row (a trend that works much better at the bowling alley than the slo-pitch diamond). Once again, there was no shortage of smiles and laughs as the frames were filled throughout the evening. No 7-10 splits, but luckily the bowling alley had some good food including a delicious banana split to enjoy between games.
Table Tennis
As you might expect, table tennis had a lot of back and forth. Not a ton of excitement, but still pretty enjoyable. Taking place at the Saville Sports Community Centre in the heart of Edmonton, all the gyms were packed full of basketball, volleyball, badminton and handball matches while dozens of table tennis courts were also taking place. Amongst the chaos, it was tough to catch your breath in what was certainly the quickest event of this first corporate challenge year.
Slo-Pitch
Donning our bright red Team Pacific Truck athletic t-shirts, our largest roster for any event made the trek out to the range roads just north of Stony Plain for a hot and windy day of slo-pitch. The early start time of the first game must have thrown us off since we fell behind 5-0 in the first two innings, before roaring back over the last four. Now that everyone was awake and ready to go for the second game, our bats came alive and our defense tightened up to get a comfortable win. Finally, the third game of the day was against the defending tournament champions from last year who already boasted a +30-run differential. We would have to beat them 31 – 0 in order to qualify for the finals. Sadly, we could not get our offense in gear and ending up falling to that powerhouse of a team. We all committed to coming back stronger in 2019 though.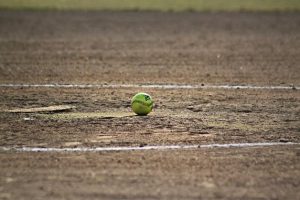 Trivia
Four of the greatest minds at Pacific Truck got together at Schanks Sports Grill for trivia night (which was really a great way to turn a Monday into a fun day). We took a break from exerting our bodies and turned to utilizing our brains. According to the Corporate Challenge organizing committee, trivia night is always well attended and well received. Tonight, was certainly no different as over 80 teams packed the house. We ended up finishing in the top 10 but were really done in by the fourth round when we only got one of the ten questions correct. We're all still pretty sure that in the British Monarchy, one can wear a tiara when engaged (you do not have to wait until married) because you are not married when you walk down the aisle. But we can leave it at that.
Eight Ball
Trick shots are always fun, but even more fun when they actually work. Turns out that meant about ten shots were fun…but only one was really fun. Nobody is going to be joining the pro billiards circuit, although I for one was impressed that the balls went into the called pockets more often than not.
Cribbage
Despite two of the four members of our roster not knowing how to play, we actually did pretty well in cribbage. Even one perfect hand was played for 29 points! Finishing middle of the pack and earning some spirit points, we wrapped up the last event on our schedule for this Corporate Challenge 2018. Several members of our team also volunteered during a very rainy party in the park event. Our job was to oversee the bouncy castles which were soaking wet, but still amazingly fun to hop around in. Plus, you just can't beat the "free food for volunteers" policy. That ice cream was delicious!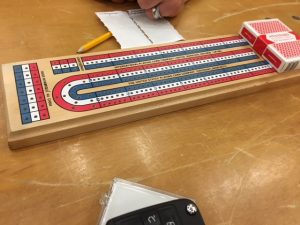 This first year of participating in Corporate Challenge was a success. Next year, we want to double our roster of participants from 17 to 34, and our number of events from 7 to 14. So, if you want to take part in the games next year, or just want one of those stylish Team Pacific Truck shirts, let your manager know what events you're interested in. As we learned from the other teams this year, it's never too early to start prepping for next year's Corporate Challenge.